This Wednesday (November 9th), Robert Lewandowski will receive the 2021-22 European Golden Shoe, also known as European Gold Boot, the annual trophy that rewards the top scorer of the season across all European football leagues.
This award was first handed out in 1968 to Portuguese legend Eusébio. Ronaldo Nazário, Thierry Henry, Cristiano Ronaldo and Lionel Messi are among the multiple all-time legends to have been awarded with it since then.
The ceremony will take place at the Antigua Fábrica de Estrella Damm, in Barcelona, the same venue that saw Barça legends Lionel Messi and Luis Suárez lift the iconic Gold Shoe in the past.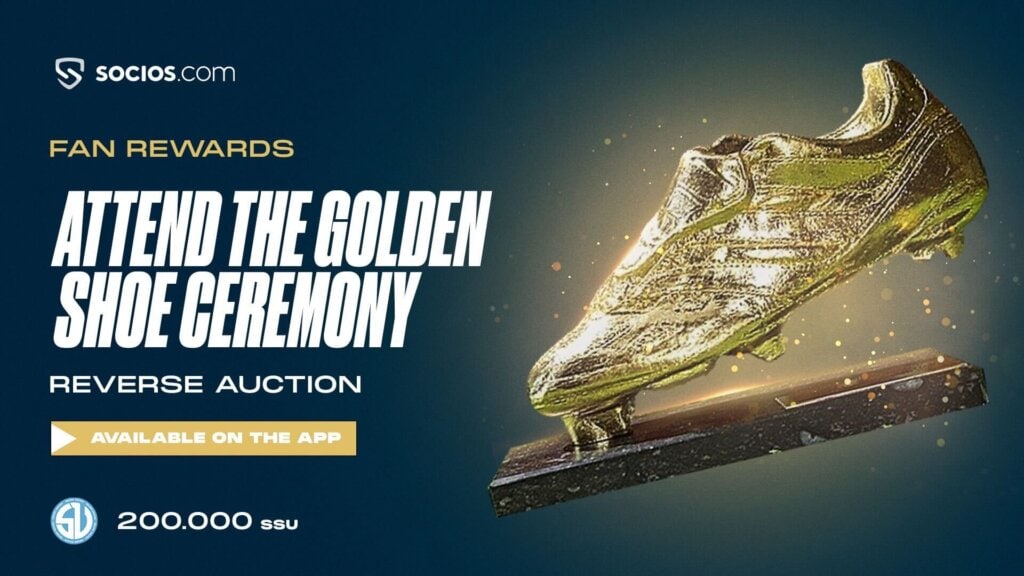 One Socios.com Fan Token holder (and his guest) will have the opportunity to attend the event thanks to our partnership with Marca, Spain's leading sports news website, who will co-host this year's ceremony with the European Sports Media.
The user will be granted VIP access to the ceremony and the after-ceremony cocktail, meaning that they will have the chance to sit among the multiple FC Barcelona and FC Bayern legends that will be attending the event.
The experience was made available on Monday (November 7th) to all Socios.com users via the in-app Fan Rewards feature. Fans could redeem it using their $SSU tokens, in-app loyalty tokens that users earn each time they interact with the app, whether it's voting on Fan Polls, predicting match outcomes on our Predictor or engaging with any of the other multiple features on the app.
The experience was awarded through "Reverse Auctions" starting at 200,000 $SSU, with the price decreasing by 10,000 $SSU every 10 minutes. It was eventually redeemed for 100,000 $SSU.
This activation follows the recent "Sit with the Stars" experience carried out during the 2022 Ballon d'Or Awards in Paris, where a Socios.com Fan Token holder and his guest were granted full access to the ceremony that saw Karim Benzema crowned as the Best Footballer of the Year.
Both of these initiatives are part of Socios.com's constant commitment to bringing fans closer to their teams and heroes through innovative activations and money-can't-buy experiences.
Download the Socios.com app and follow Socios.com on social media to stay updated on coming opportunities.