Chivas fans, the goats, get ready! Your team is launching their first-ever Fan Tokens on August 21st, and you can be one of the first fans to own them. Socios.com rewards you for your loyalty and thousands of fans around the world use Fan Tokens to get closer to their teams, win prizes and earn fantastic rewards. 
Chivas Fan Tokens are coming to the Socios.com app and will be available on selected exchanges too. Make your Socios.com account now and get Chiliz to prepare yourself for the Chivas Fan Token Offering.®
Chivas Fan Token Offering®: Waves and price
During the Chivas FTO®, we're releasing 50,000 of the total supply of Chivas Fan Tokens. In all, 20 million $CHIVAS will hit the market once the Fan Token is listed.
For this launch, we're going to use two waves, and you'll be able to buy Fan Tokens at a fixed floor price of $17 MEX (Pesos) each during both waves. Typically, each wave lasts 24 hours, or until the total stock allocated for that wave runs out.
Wave 1 information: 
Monday 21st August 2023
12:00am CDMX | 20:00 CEST
Cap: 100 Fan Tokens per fan
Cost: $17 MEX (Pesos)
Wave 2 information:
Tuesday 22nd August 2023
12:00am CDMX | 20:00 CEST
Cap: Unlimited
Supply 50k
Cost: $17 MEX (Pesos)
The more Fan Tokens you own, the bigger the rewards get.
Here's a breakdown of what prizes you can win, whether you get 5 $CHIVAS or over 50.
5 $CHIVAS: Hold 5 $CHIVAS for a 5% discount voucher on the new 2023 jersey, sent via email post-FTO®.
15 $CHIVAS: Hold 15 $CHIVAS for a 10% jersey discount, plus a chance to win a signed Chivas shirt.
25 $CHIVAS: Hold 25 $CHIVAS for a 10% discount, entry to a signed shirt raffle, and a shot at Chivas Training Ground Experience.
50+ $CHIVAS: Hold 50+ $CHIVAS for 10% discount, a signed shirt raffle, and a chance to win a spot at training with a meet & greet. 
Chivas: Since 1906
Founded in 1906, Chivas, officially known as Club Deportivo Guadalajara, emerged as a beacon of Mexican football. With a storied history spanning over a century, the club has etched its name into the annals of the sport.
Chivas' Golden Era
Chivas' early years were marked by determination and growth, culminating in their first Mexican League championship in the 1956-57 season. This victory kickstarted a golden era, with subsequent titles cementing their status as a football powerhouse. The 1960s saw Chivas clinch multiple league championships, creating a legacy of excellence that resonates to this day.
One of the club's most significant achievements occurred in the early 1960s, as the club won the CONCACAF Champions' Cup in 1962, making them the first Mexican club to conquer the continental competition. This triumph solidified their reputation beyond national borders.
Chivas: The Mexican Team
Chivas' commitment to nurturing local talent became a cornerstone of their identity, giving rise to the important Chivas Youth Academy that has produced plenty of skilled players who would go on to impress beyond the borders of Mexico too. This emphasis on homegrown talent not only shaped the club's future but also contributed to their distinction as the "Mexican Team."
Presently, Chivas is renowned for a passionate fan base, aptly called the "ChivaHermanos," who bring unrivalled energy to matches. The club's white and red striped jerseys are instantly recognizable, symbolizing the unity and camaraderie that define Chivas. With a commitment to their roots and an indomitable spirit, Chivas continues to tread the path of glory, leaving an indelible mark on Mexican and international football.
As the team continues to increase its global reputation and presence, Fan Tokens are being minted, allowing you to interact with the side, make your mark on them and get rewarded for your loyalty to The Mexican Team. 
Chivas home stadium: the Estadio Akron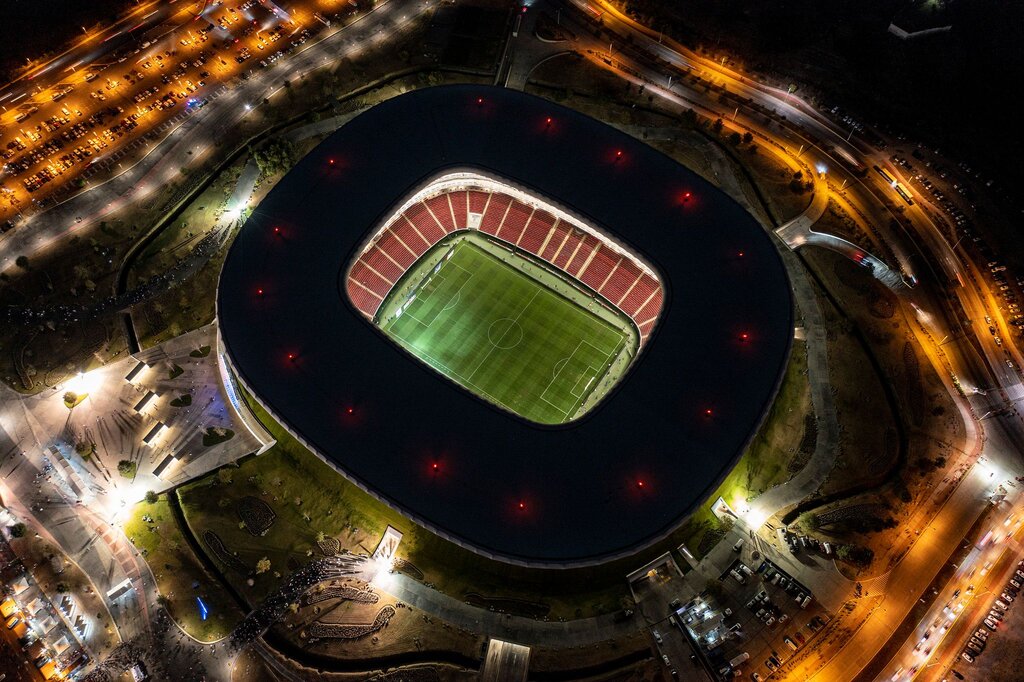 Chivas, a powerhouse of the pitch, doesn't just play football – they create an incredible community for fans, using the stadium as the perfect home base to spur the team on. With a sea of devoted supporters, each match becomes a vibrant tapestry of colours, chants, and a shared belief in victory. The arena pulsates with the rhythm of united souls, ready to do anything to urge their side forward.
Chivas' iconic stadium, the Estadio Akron, is a revered sanctuary where passion and history intertwine to create an unforgettable football experience. Located in Guadalajara, Mexico, the stadium stands as a colossal testament to the club's legacy. 
With a seating capacity that can accommodate just over 46,000 fans, it becomes a cauldron of emotions on match days.
Inaugurated in 2010, the Estadio Akron boasts state-of-the-art facilities, ensuring spectators are immersed in comfort and excitement. The stadium's architecture seamlessly blends modern aesthetics with Mexican culture, importantly reflecting the club's identity. Vibrant chants and thunderous applause reverberate across its stands, creating an atmosphere that amplifies the players' performances and intimidates away fans and players.
The Estadio Akron is more than just a venue; it's a shrine where die-hard fans converge to celebrate victories and weather defeats. The pitch becomes a battleground, where legends are born and history is etched. The stadium has seen Chivas capture moments of triumph and glory, etching unforgettable memories into the hearts of both players and supporters. 
As the club's fortress, the Estadio Akron continues to serve as a hallowed ground where dreams are pursued, and a sense of unity binds the fans and team together in a tapestry of devotion, passion and love.
Make your mark on Chivas
As we move into the modern era, Chivas are launching their first ever Fan Tokens on Socios.com, giving you the opportunity to make your mark on the side and get rewarded for your passion.
These digital assets are taking the sporting world by storm and thousands of fans across the world are using our app to earn amazing rewards like signed merch, VIP experiences, match tickets, meet & greets and much more. It's never been easier to connect with your side, and Chivas have recognised the importance of you, the fans, in making this step into the future.
It all starts with a Fan Token, and you can get yours when you open your account with Socios.com. Simply download the app, register for free and get Chiliz, the cryptocurrency that fuels Socios.com. 
Then, take part in the Chivas FTO®  to be one of the first to get the newest Fan Tokens. The more Fan Tokens you own, the bigger the rewards get and you'll always get to keep your Fan Tokens after using them.
How to earn Chivas Fan Rewards
Each time you engage with Chivas on the Socios.com app, you'll rack up XP and Leaderboard points. XP are collected each time you:
Vote on polls
Predict Chivas match results
Check in to Chivas matches
Play in-app games
As these stack up, you'll level up your profile, scoring SSU in turn. SSU are our loyalty currency, which you'll then exchange for those glorious Fan Rewards. Where will your Fan Token lead you?
Once you have a Fan Token, you'll automatically enter a Chivas Leaderboard. Here, we'll reward the most active fans with huge end-of-season prizes. Are you ready to prove you are Chivas' number 1 fan? Let's go!
A list of honours won by Chivas.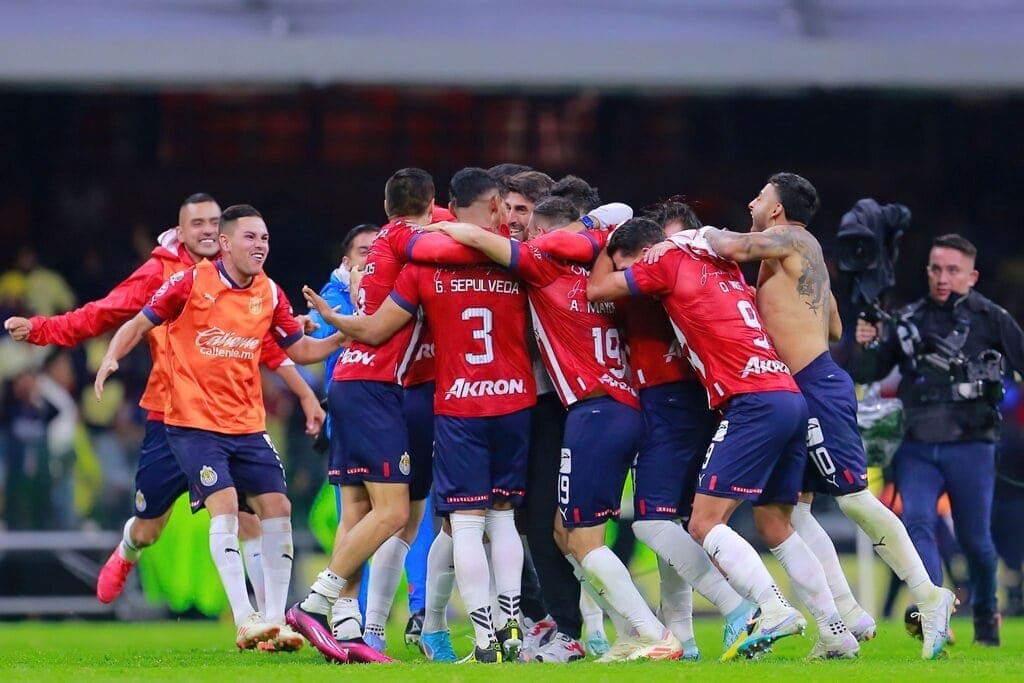 The Mexican Team have won their fair share of trophies, and the gold rush in the 1960s saw them emerge as one of Mexico's most successful outfits. Here's a list of honours won by Chivas.
Domestic Honours:
Primera División de México (Mexican League):

Champions: 1956–57, 1958–59, 1959–60, 1960–61, 1961–62, 1963–64, 1964–65, 1969–70, 1986–87, 1996, Apertura 2006, Clausura 2017

Copa MX (Mexican Cup):

Winners: 1962–63, 1969–70, 2015 Clausura

Supercopa MX:
Campeón de Campeones (Champion of Champions):

Winners: 1956, 1957, 1959, 1960, 1961, 1964, 1965, 1970, 1987, 1997, 2015

Copa Challenger:

Winners: 1958, 1959, 1960, 1961

InterLiga:
International Honours:
CONCACAF Champions League (formerly CONCACAF Champions' Cup):
Copa Libertadores:
Copa Sudamericana:
Copa Interamericana:
Copa de Campeones CONCACAF:
North American SuperLiga:
It's a list of honours as long as your list your potential rewards when you own Chivas Fan Tokens. Wherever your Fan Tokens take you, you can't help but admire this team for its passion and incredible fan base. Add August 21st to the calendars, and grab your Chivas Fan Tokens for the fixed price of $17 MEX (Pesos) each, before they hit the marketplace.