One of Mexico's most followed and successful clubs has now joined Socios.com. The 13-time Liga MX champions Club América has announced a partnership with Socios, the leading sports and entertainment industry blockchain provider.
Club América fans can now look forward to getting $AME Fan Tokens, which open a world of opportunities and benefits via the fan engagement platform Socios.com.
Socios.com now has over 170 partners from around the world, spread across 10 sports verticals and 25 countries. Some of the world's biggest teams collaborate with Socios to get fans closer to their teams in unimaginable ways.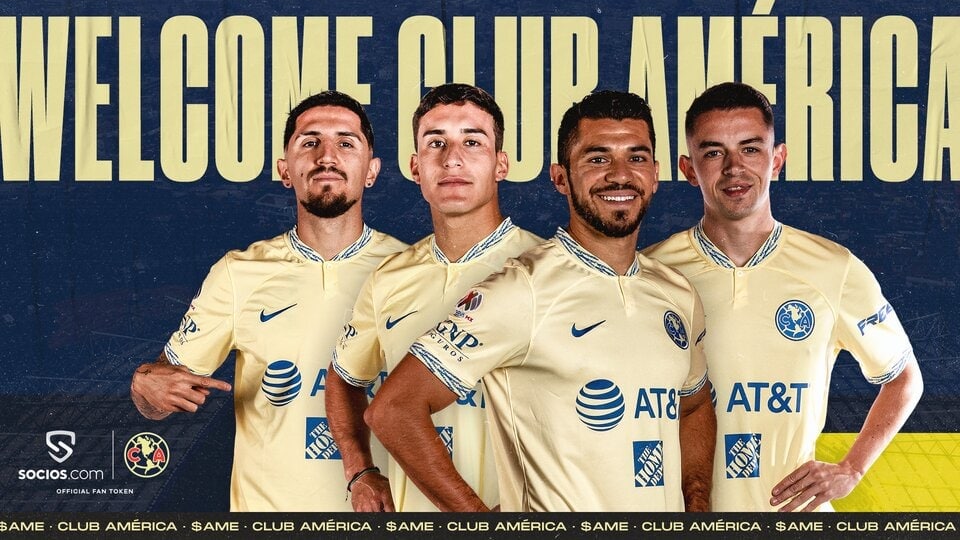 Club América is the most successful and decorated football club in México, holding a record for most league and cup titles, and a record of seven CONCACAF Champions League trophies. América is also the most popular club in México in terms of fan base, with the iconic Estadio Azteca recording the highest attendance numbers.
Club América & Socios.com
Socios is proud to partner with over 170 teams from across the globe, but Socios.com's collaboration with Mexic's most successful team means a lot to the fans. Socios.com users have been getting ever closer to their teams via the Fan Engagement platform, scoring rewards for showing their loyalty.
Socios.com aims to increase the communication between teams and their fans, and Club América fans have much to be excited about.
What are Fan Tokens?
Socios will soon release $AME Fan Tokens, via a Fan Token offering. Fan Tokens are the most important part of this new partnership.
Fan Tokens are crypto-based assets logged on the blockchain and the price of these fluctuates depending on market conditions. They are available on Socios.com and all you need is to top up your wallet with $CHZ, the cryptocurrency that fuels Socios.com.
Fan Tokens open up a world of possibilities for the holders. They can:
Vote on official team polls
Earn incredible Fan Rewards
Win exclusive prizes
What are Club América Fan Tokens ($AME)?
$AME is your way of getting closer to Club América. Socios.com users have scored heaps of rewards using their Fan Tokens.
During the season, Club América will collaborate with Socios.com to release official team polls, asking fans for their opinion and abiding to the most popular choice. This is one way to impact the club using your smartphone.
Fans have already scored fantastic Fan Rewards on the app including
Rare merch
Socios Collectibles items
Match tickets
VIP tickets
Meet & greets
… and much more
So, are you ready to impact Club América and get rewarded for your loyalty?
How do I get Club América Fan Tokens ($AME)?
Once $AME are minted they will be made available on the Socios.com app, and the Chiliz exchange.
Signing up for a Socios.com account is free, and you can buy Fan Tokens using $CHZ, the cryptocurrency that fuels the fan engagement app.
Once you have an account and top it up with $CHZ, you'll be able to search for any of Socios.com's partners to get their Fan Tokens.
When will the first Club América Fan Tokens be available?
When new Fan Tokens are made, their first release happens through what is known as a Fan Token Offering. This happens in three waves of limited numbers, ensuring an equal distribution of the Fan Tokens.
FTOs allow users to buy their team's very first Fan Tokens at a fixed price over three days, but they are restricted to a fixed amount during each Wave.
The FTO for Club América Fan Tokens has not been scheduled yet, so keep tabs on our Twitter account for news on the release.