Ever wanted to make your mark on a Formula 1 car? Socios.com is giving fans the opportunity to customize the messaging on the headrests for the final race day of the season in Abu Dhabi.
Both the Alfa Romeo's will need custom headrests, and you can be the one who writes it, or selects it on the Socios.com app.
A Fan Token's Message will appear on the Alfa Romeo F1 Car
Fan engagement app Socios.com is giving race fans the opportunity to customize the headrests of the Alfa Romeo C42 for the final race of the season in Abu Dhabi.
Fans are being encouraged to submit their messages on the Socios.com app, which will then go through a selection process, being hand-picked by Sauber and Socios officials.
After that, the top picks will go to a poll, where fans can vote for their favorite, using the power of a $SAUBER Fan Token.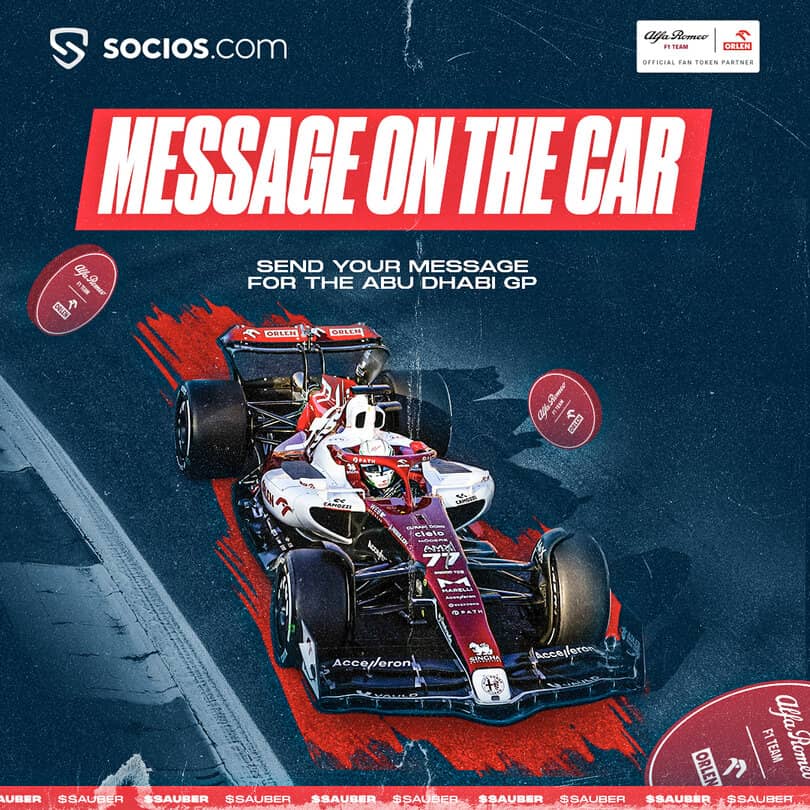 Be featured on a Formula 1 car
This is your chance to flex your creative muscles and have your message featured on a Formula 1 car.
Both Bottas' car and Zhou's will be customized, so you've got two headrests to think about. It's been a long, grueling season, so let's send our drivers out in style with the motivation they need to score more points on the final day.
What are Alfa Romeo Fan Tokens ($SAUBER)?
$SAUBER Fan Tokens are a tokenized membership to the Alfa Romeo Racing ORLEN F1 F1 Team. They are housed on the block-chain and can be bought on the Socios.com app, using the cryptocurrency $CHZ.
Fan Tokens change the relationship between sports and fans. It's now no longer one-way traffic, as fans get rewarded for being an integral part of their team. Fan Token holders can win prizes when they engage with their teams via the Socios.com app.
How to buy Alfa Romeo Fan Tokens ($SAUBER)?
Getting $SAUBER Fan Tokens is super easy, and all possible on the Socios.com app. The first thing you'll need to do is make your account at Socios.com and sign up, then the magical world of Fan Tokens opens.
You'll be able to impact your favorite teams and get rewarded. Follow these three steps to get your $SAUBER Fan Tokens:
1. Open the Socios.com app and tap on Wallet.
2. Top up your Wallet with our in-app currency, Chiliz ($CHZ)
3. Tap on Sports, tap on $SAUBER and buy your $SAUBER Fan Token using the $CHZ you just bought.
The more Fan Tokens you own, the bigger your sphere of influence is, as your voting power increases. The more you own, the bigger the Fan Rewards get too as you'll gain upper tier access in the world of rewards. Socios.com users have been treated as VIP in big events, including the prestigious Ballon d'Or ceremony, have been able to meet their stars, and get tours of facilities like the Aston Martin garage in Silverstone. The possibilities are endless when you own Fan Tokens.
Alfa Romeo Racing ORLEN F1 Team
Sauber opened their garage in 1970 and the Swiss company made its F1 debut in 1993. It is a privately held team, which is becoming a rarity in itself. Following the 2018 partnership with Alfa Romeo, the team Alfa Romeo F1 Team ORLEN was born.
Alfa Romeo Drivers 2022
Bottas comes from the European home of Formula 1 racing: Finland. He's raced for Mercedes and Williams and has 10 race wins under his belt. He's shared the poduim 67 times in his F1 career, and has finished as Championship runner-up twice, once in 2019 and again the year after while driving for Mercedes.
Zhou hails from China and is the first ever driver to represent China in Formula 1. He's a rookie, and this season was his first as a main driver. At 23, he's got a lot of potential and has already gotten one Fastest Lap time this season.
37 year old Kubica comes from Poland and is the Test Driver for Alfa Romeo this season. He's got years of experience in different race categories, including World Rally Championship, Endurance races and F1, amongst others.
Alfa Romeo Racing ORLEN F1 Car
The C42, is first of all, gorgeous, and secondly, fast. It runs on a Ferrari engine, and was built under the new budget-cap restrictions used in F1 from the start of the 2021 season onwards. It weighs just 740kg, has a 1/6L direct injection V6 turbocharged engine which runs on Shell V-Power.