Socios.com's Global Brand Ambassador discussed the role fans played in his journey from fan to player to legend during a panel on the impact of blockchain in sports fandom with Socios.com CEO Alexandre Dreyfus.
Utility is what makes Fan Tokens different to any other blockchain-based product and what has allowed Socios.com to continue growing despite the so-called crypto winter, according to Alexandre Dreyfus.
LISBON. NOVEMBER 4TH. Socios.com Founder and CEO, Alexandre Dreyfus, took to the Center Stage at Web Summit on Thursday (November 3rd) to discuss "How blockchain will change the future of fandom" alongside FIFA World Cup Champion and Global Brand Ambassador for Socios.com Alessandro del Piero.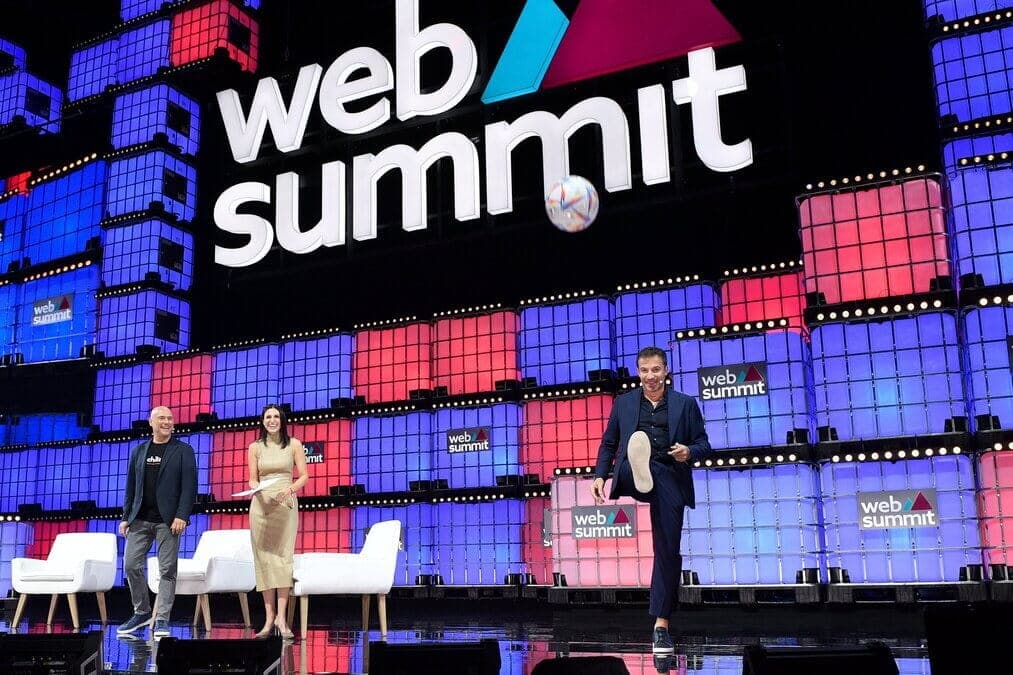 During the panel moderated by Dot Dot Dot CEO, Laurie Segall, Alexandre reflected on the journey that has seen Socios.com become the biggest blockchain provider for sports, with Fan Tokens currently redefining the way fans connect and engage with their favorite teams across the global sports industry.
"Four years ago we launched Socios.com because we identified a simple need: 99 percent of sports fans are not in the stadium, not in the city and not even in the country of the team they support", Dreyfus said. "We asked ourselves: What can we create that is valuable for the fans and scalable for the teams? We invented this concept of Fan Tokens and four years later we work with 170 clubs all over the world and we've created a new link between fans and teams."
The vision to create a new link between fans and clubs and to provide fans with a way to interact with their teams is what attracted Italian football legend Alessandro del Piero to Socios.com. The Italian legend shared his personal journey and the pivotal role that fans played throughout his career. Growing up as a Juventus fan in a small town near Venice, Alessandro never had the chance to watch his team live. Later in his career, when he traveled the world as a Juventus player and when he played abroad in India and Australia, he realized the urgent need to create a vehicle for these fans to have what he called "an active interaction" with their teams.
"Socios.com is facilitating a two-way connection with the fans, who no longer just watch or consume the content that their team is producing, but can actually participate in decisions and play an active role in the team's daily life. This is really amazing," said Del Piero. The Italian legend told the audience who packed the Center Stage just how technology has changed his relationship with his fans throughout his career and shared how he used to answer, one by one, all the letters he received at his parent's house during the first years of his successful career.
As Alexandre Dreyfus stated during the panel, Socios.com will be launching more than 500 Fan Polls through the Socios.com app in 2022 and giving away over 17,000 rewards, from signed jerseys to once-in-a-lifetime VIP experiences. This proven utility is what makes Fan Tokens so unique, and also what has allowed Socios.com to continue growing during the recent market conditions. While brands across the blockchain industry have been forced to lay-off staff, Socios.com has doubled its workforce, opened several new offices around the world, worked closely with its partners to improve its product and develop new activations, and on boarded the first partners to Chiliz Chain 2.0 (CC2), the first blockchain exclusively dedicated to sports and entertainment.  
"If your product doesn't offer utility it lacks interest, and that's what happens with some products", Dreyfus said. "The value of Fan Tokens is linked to its utility, which is voting on polls, accessing multiple community features and earning rewards. This utility is growing each day because we have 300 employees in nine offices around the world working closely with our 170+ partners to deliver more and more utility to their fans every day.", he added.
Asked about the future of Web3 and if words such as NFTs will exist in five year's time, Dreyfus stressed that NFTs are not a product but a technology, and that it will be the ability to use this technology to deliver meaningful and relevant products what will keep the industry growing.
"I was around in 1995, when people were laughing at the Internet. Right now we are seeing a very similar situation, with a lot of people who don't want to embrace it. But that doesn't mean this is not going to happen. It is going to happen," he concluded.
Click on THIS LINK and go to 4:47:45 to watch the full panel