Apple Pay is now available on Socios.com, allowing more fans from around the world to get closer to the teams they support.
Socios.com, the blockchain-powered fan engagement and rewards app, is pleased to announce that Apple Pay is now available. The new payment method has been added thanks to an extension of Socios.com's existing integration with leading global payments platform Checkout.com.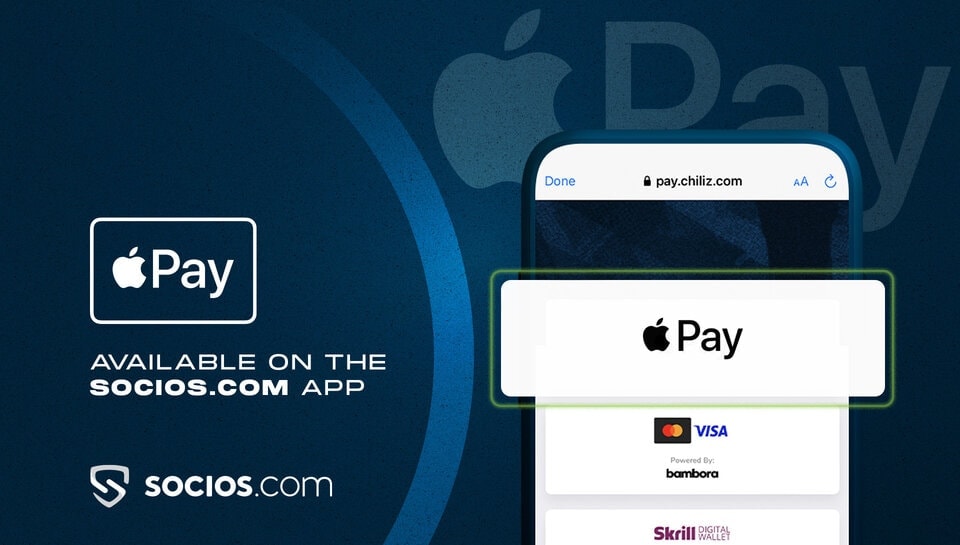 The addition of Apple Pay complements the wide range of payment options available on the app, improving the customer journey and making it easier for fans in all markets where Socios.com is active to benefit from becoming part of a community where their passion is rewarded.
Fans can use the new payment method to purchase Chiliz $CHZ, the digital currency of Socios.com, which is in turn used to acquire Fan Tokens.
Fan Tokens provide access to a wide range of opportunities on Socios.com, allowing fans to vote in polls about their teams, take part in games, competitions, and show their support for their teams wherever they are in the world. Engagement leads to rewards on Socios.com, with fans able to access merchandise, VIP tickets to games, NFTs (limited edition digital collectibles commemorating special moments from your team) and unforgettable, 'did that really just happen?' experiences.
Alexandre Dreyfus, CEO of Chiliz and Socios.com, said: "Fan Tokens provide the scalability sports teams need to be able to connect with their global fanbases, allowing them to build communities where they can interact with their fans and reward their passion.
"Access to these communities and Fan Tokens is key and through Apple Pay we're increasing the options available to fans, which will improve the experience, boost Fan Token adoption and help our global community grow."