October is the month that football celebrates the elite and awards the Balon d'Or, so of course Socios were on hand in the ceremony in Paris in a night with the stars. It's a peak Fan Reward and a unique opportunity to rub shoulders with the top brass of the game.
Football fans were blessed this month as we held a few meet & greet sessions, Rugby fans were delighted as the Saracens renamed their West stand, while esports fans had one of their most exciting months to date too.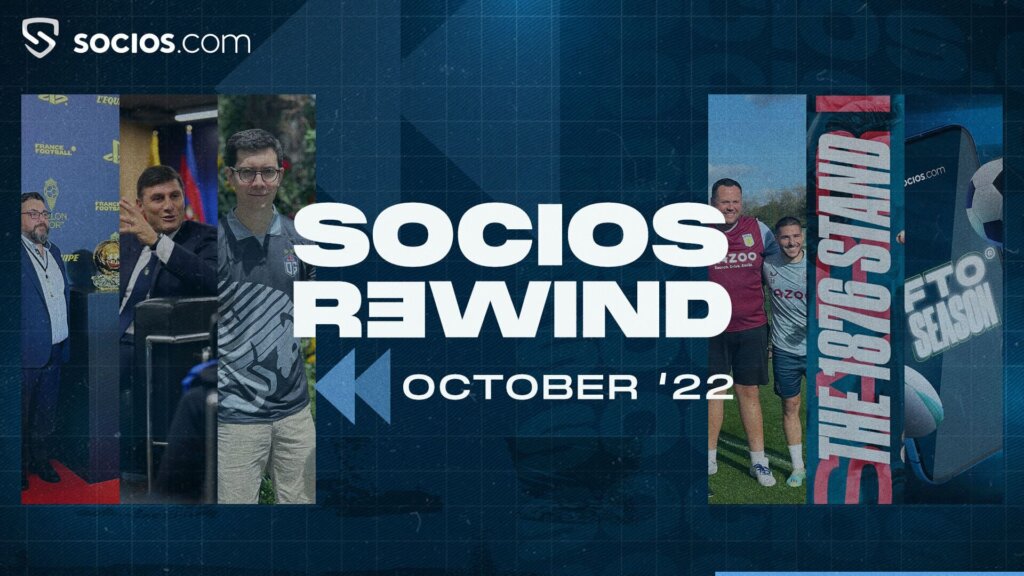 Sit with the Stars
When fans get to meet their heroes, it's always an unforgettable experience. But can you imagine meeting them all glammed up in Paris, at the Balon d'Or ceremony? It's unheard of really, but with Socios, literally, anything is possible.
Two fans from Italy got to go to the ceremony and even sat next to Didier Deschamps as Karim Benzema scooped his first-ever Balon d'Or.
October's dazzling meet & greets
Sticking to the theme of meeting heroes, Inter, Milan, Barcelona and Flamengo fans also had the opportunity to spend time with the cult heroes of their clubs.
Inter
Fan Token holders were treated at the San Siro, with a trophy room tour, a sneak peek of Inter's third kit and a private meeting with Fabio Galante. They even had the pleasure of seeing the players warm up just ahead of kick-off and got to meet some of the starting XI after the game too. It's the insiders' experience at Inter, only made possible with $INTER Fan Tokens.
Inter did more for their Fan Token holders just before the crucial tie against Barcelona in the UEFA Champions League group phases. Two Fan Token holders, one $INTER Fan Token holder and one $BAR Fan Token holder, got the pleasure of meeting Javier Zanetti and Rafael Marquez, two giants of the game as their respective teams crossed swords. Of course, in typical Socios fashion, the fans even got tickets to the anticipated clash at the Spotify Camp Nou too.
AC Milan
Sticking to the wonderful city of Milan, $ACM Fan Token holders made a huge impact on their club and were rewarded in the right way. With AC Milan looking to name the grandstand of their Milanello training ground and it was Fan Token holders who would have the final say.
It was named after Cesare Maldini, a man who needs no introduction, and $ACM Fan Token holders redeemed a Fan Reward like no other. They got to go to the inauguration ceremony, hosted by Paolo Maldini himself on a gloriously sunny Italian day. These are memories that will last a lifetime.
Flamengo
We flew one lucky $MENGO Fan Token holder to watch Flamengo scoop their third Libertadores Cup in Guayaquil, Ecuador. All the bells and whistles were attached and he even got to have dinner with the likes of Joel Santana, Athirson and the athlete Paulo André. A huge congratulations to him, and his impressive club Flamengo, who won the match courtesy of a Gabriel Barbosa first-half strike
Taking corners with Aston Villa
It's not often that a fan can say that Emi Buendia was on the end of his corner! Well, with an $AVL, everything is possible. Two Fan Token holders headed to Bodymoor Heath and practised corners with Emi Buendia, Douglas Luiz and Robin Olsen in a corner-kick challenge.
Esports first-ever Predictor & VIP experience
esports fans had a brilliant October as Socios.com released the first-ever Esports predictor, enabling fans to predict the score of every OG Esports match at the International 11 Dota 2 tournament. Fans could win a once-in-a-lifetime experience which included flights & accommodation in Singapore, tickets to the finals and a meet & greet session with OG players and Ceb.
That VIP experience was another first for Socios and was a huge success. It was smiles all around in Singapore and we're looking forward to more esports experiences coming soon.
A new stand name for Saracens
Rugby Union giants Saracens renamed the West Stand of their StoneX Stadium and needed the input of $SARRIES Fan Token holders. A huge voter turnout resulted in the stand being named the 1876 Stand – a nod to the founding year of the club.
Fan Token Offerings® in October
October was also an exciting month as these teams launched their first-ever Fan Tokens.
🏉 Stade Francais
🏉 The Sharks
🏉 Saracens
🏉Leicester Tigers
🏉 Harlequins
⚽ Bahia
⚽ Real Sociedad
⚽ Hashtag United
⚽ Sevilla
⚽ Udinese
The response was stunning, and we're looking forward to seeing your impact on your teams this season and beyond!
Halloween brought October to a close with a new themed Token Hunt adding more ways for you to score free tokens. It was a massive month, but with the World Championships coming up in November, we're already looking forward to more memories, smiles and incredible once-in-a-lifetime experiences!