Socios.com is committed to improving the way fans interact with the beautiful game, and the next innovation, Socios.com Collectibles, is here to change the way fans can collect game-used memorabilia.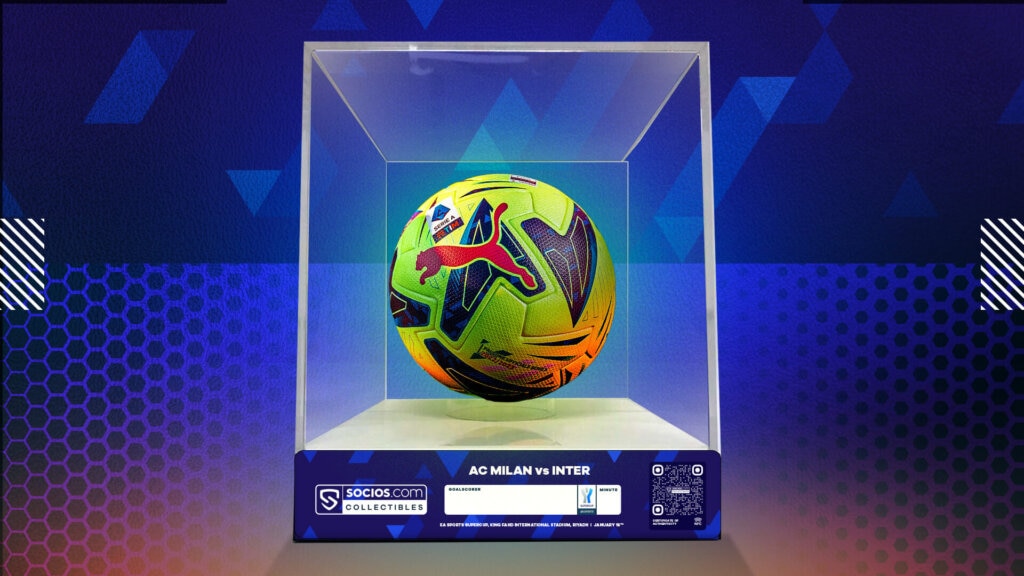 The EA Sports Supercup final will be played on Wednesday 18th January and for the first time ever, you can get your hands on each of the game's Game-Scored balls. Yes, you read correctly: You can own the official ball that hits the back of the net during the EA Sports Supercup final.
As last season's Coppa Italia winners Inter challenge the defending Serie A champions AC Milan, Socios.com Collectibles is providing you with the opportunity to grab a match day souvenir like no other.
Socios.com Collectibles for the EA Sports Supercup final
The EA Sports Supercup final paves the way for the first-ever Socios.com Collectibles drop and this is an opportunity to get your hands on a game-scored ball.
When either AC Milan or Inter score, the game-scored ball will be collected by match officials and replaced in-game. It will then be fitted with an NFC chip and made available on Fan Rewards. The NFC chip acts as a certificate of authenticity, proving the ball's journey and ownership. The data is logged on the Chiliz blockchain, using Socios Collectibles® technology. The NFC also reveals the ball's owner and validates the item in a fool-proof system that eradicates the risk of counterfeit products which have traditionally flooded the market.
How you can own a Game-Scored ball
To own a game-scored ball you need to have a Socios.com account, the required amount of AC Milan or Inter Fan Tokens, and the number of SSUs needed to redeem the Fan Reward.
The game-scored ball will be available on Fan Rewards via a reverse auction.
100 Fan Tokens of either side are needed per game-score ball, and the starting number of SSU required is 600,000.
Reverse Auctions are a straightforward concept. The auction kicks off at a fixed number of SSUs, which then drops every by 25,000 SSU every 5 minutes.
The main highlights:
Item: Game-scored ball
Method: Reverse Auction
Where: Socios.com, Fan Rewards
Fan Tokens needed: 100 of either AC Milan or Inter
Minimum amount of SSU tokens needed: 600,00 SSU