2023 kicked off with a bang as Socios.com Collectibles was launched during the EA Sports Supercup Final between AC Milan and Inter. The fun in January didn't end there as we had a fair share of polls, Fan Rewards and prizes with getting rewarded for their loyalty.
Socios.com Collectibles
In a world-first, Socios.com gave football fans the opportunity to get their hands on game-used merchandise. Socios.com combined with Socios Collectibles technology to ensure all products are genuine and game-used as they are logged on the Chiliz blockchain which serves as proof of ownership.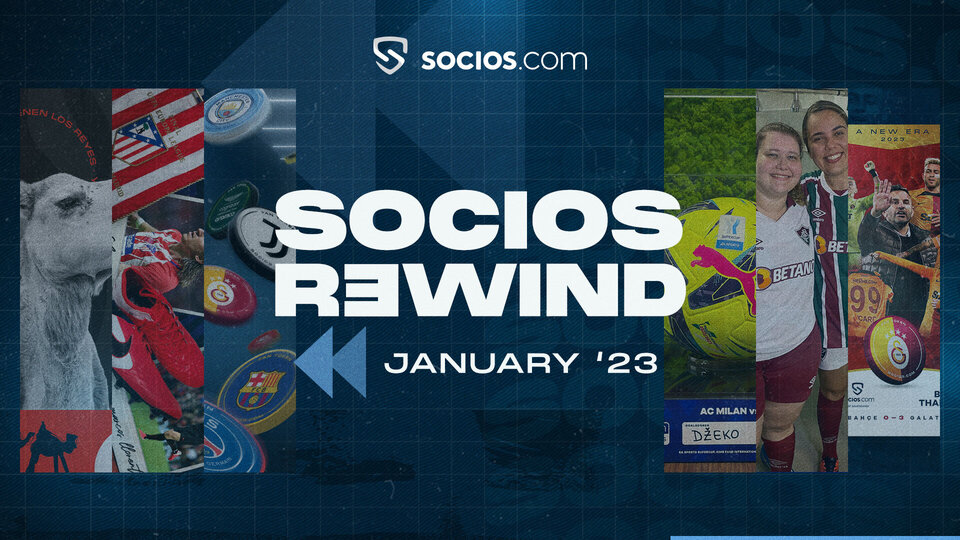 So when Federico Dimarco hit the back of the net against AC Milan in the EA Sports Supercup final played in Saudi Arabia, that exact ball was collected by match officials, fitted with an NRC Chip and made available as a Fan Reward via a reverse auction.
That's a lot to take in, but it's a simple concept: the game-scored balls are highly collectible, rare and your ownership is logged and secure. We've eliminated the chance of counterfeit products using the blockchain's power. 
As Lautaro Martinez made it 3-0, his ball was also collected, chipped and primed for auction. It's just the sort of Fan Reward from the top shelf, yours, so look out for this in early February.
The Fan Rewards was claimed in a reverse auction which started at 600,000 SSUs, dropping by 25K every 5 minutes. 
New Fan Token designs
We're also excited to reveal new designs for our Fan Tokens. They are simple but effective tweaks that give a fresh look and feel. They continue to bind Socios.com and Fan Tokens together and show the team badge which proudly sits in the middle of the Fan Token. We feel they fit our brand and the team's brand more and continue to take the heritage of the team into the digital space.
Digital Collectibles to celebrate a massive Galatasaray win
The Intercontinental Derby between Fenerbahçe and Galatasaray gave fans unforgettable memories with Oliveira's screamer, Kerem's Harry Potter spell and Icardi's jersey celebration. So, to celebrate the victory, we made an NFT series entitled "Istanbul is Red" which were quickly redeemed on Fan Rewards by Galatasaray Fan Token holders. To the next big victory, Gala!
Get creative with Aston Martin and attend the car launch
In January, we challenged Aston Martin Fan Token holders to design their dream car for this upcoming season… with a huge prize at stake. The best designer will win an invite to the official reveal of the AM23. Car launches are one of the most exciting parts of the close season, so having Fan Token holders present really illustrates the power of the Socios.com app. Lights out, pencils out, go!
A touch of class from our Juve fans
Juventus Fan Token holders selected a motivational message for the dressing room at the Allianz stadium, and fittingly, a moving sentence from club legend Gianluca Vialli was selected:
"La principale caratteristica alla Juve è la testa bassa. L'umiltà rispetto a quello che si vince, che è sempre tanto" immortalising him forever. 
English translation: "The main characteristic of Juventus is modesty. The humility compared to its great wins."
Memories for Italy, Milan and Inter fans 
Italy fans also had the opportunity to attend a sneak peek of the gorgeous new Italia jerseys, and all they had to do was send in their best memories of the Azzurri! A neat prize for a neat kit! 
Inter Milan fans also got to attend the Supercup final in Saudi Arabia with club legend Nicola Berti, using their Fan Tokens to make even more memories. What a match they got to see too, with three goals securing the trophy for Inter.
Also, can you believe it's already been two years since we launched the first-ever AC Milan Fan Tokens? What a ride it's been with the Italian champions!
The gift that kept giving
The first week of January got off to a flyer in Spain as we had huge prizes given out on a daily basis, celebrating the arrival of the Three Kings in true Socios style.
Fans had to head to the app, play a simple game, or take part in a challenge to win the prizes listed below, including match tickets, tours and jerseys!
| | | |
| --- | --- | --- |
| Date | Prize | How to win |
| January 1st 2023 | Atlético Madrid bundle | Raffle |
| January 2nd 2023 | FC Barcelona bundle | Find the Ball game |
| January 3rd 2023 | Valencia CF bundle & Mestalla tour | Guess the portion game |
| January 4th 2023 | Levante UD jersey + VIP tickets | Find hidden Fan Tokens |
| January 5th 2023 | Sevilla FC jersey + Sanchez Pizjuan stadium tour. | Guess the player game |
| January 6th 2023 | Real Sociedad t-shirt, Reale Arena tour an+ 2 VIP tickets to see the Txuri-urdin. | Play This or That |
| January 7th 2023 | Mystery Box | Challenge |
| January 8th 2023 | Mystery Box | Challenge |
What an excellent start to 2023 for our fans in Spain! 
Impacting Atlético Madrid's museum
Staying in Spain, Atlético Madrid Fan Token holders picked the next item to be displayed at the Atlético de Madrid's Museum. They picked the official match pennant from the UEFA Cup Final between Atletico Madrid and Fulham in a poll which will soon be seen at Territorio Atelti. 
Play on the pitch
Fluminense Fan Token holders had an amazing day out as they played at the Estádio das Laranjeiras. The day out included a tour of the stadium and the Fan Token holders were gifted personalised jerseys to play in and enjoyed the star treatment for the day!
14 players managed to take part in this unique experience after winning a prize via a Socios.com app quiz, while three spaces were redeemed as Fan Rewards. Our Fan Token holders also got to meet club legend Romerito, who offered them some pointers during the match.
Playing on your team's home turf is a simply unbelievable experience, made real with Fan Tokens!
Well, thats a wrap for January, we hope you enjoyed it as much as we did! Stay tuned for another big month with Socios.com.