The three balls with which FC Internazionale scored their three goals last night against local rivals AC Milan to claim their second straight and seventh overall EA Sports Supercoppa Italia are already on their way to the Chiliz central HQ, in Malta, where they will be authenticated by GameUsed, the company's recently launched blockchain-based authentication service.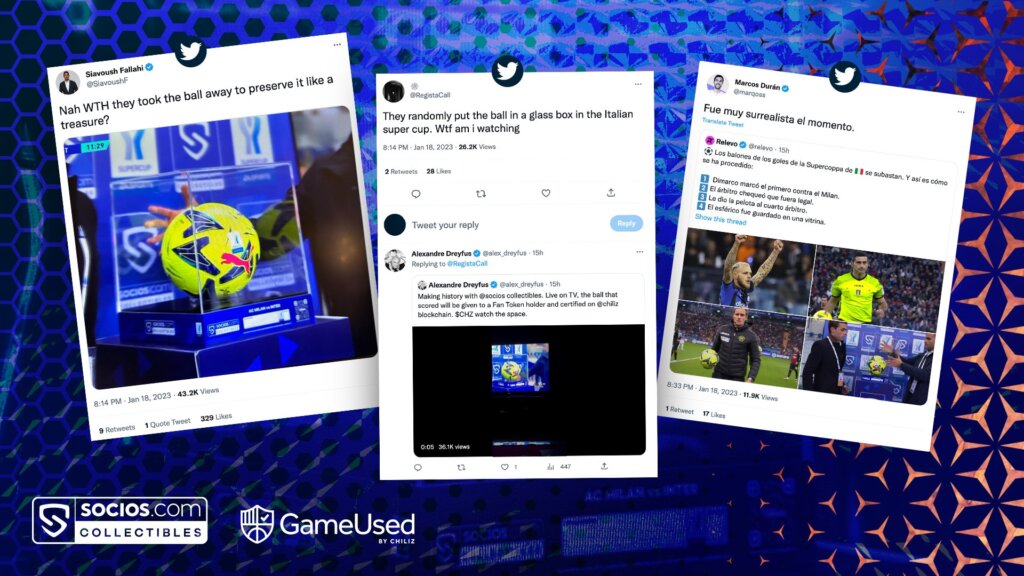 The initial step of the first-ever match-scored ball activation, hosted by Socios.com and partners Lega Serie A, was successfully carried out yesterday at the King Fahd International Stadium in Riyadh, Saudi Arabia. As millions of spectators worldwide were able to see through their TV screens, the three balls netted by Federico Dimarco, Edin Dzeko and Lautaro Martínez were removed by the referee, handed to members of the Socios.com team and safely stored in separate transparent urns.
The balls are already on their way to the company's main headquarters, in Malta, where they will be authenticated by GameUsed, a new service launched by Chiliz, global leaders in blockchain solutions for sports and entertainment and creators of the Socios.com platform.
An NFC chip will be inserted in each of the balls, allowing anyone to check their authenticity easily and quickly using their mobile phone. By scanning the NFC chips, users will also access footage of the goal scored with each of the balls and other information about the match.
Once this process is finished, these balls will be made available for fans to redeem via Socios Collectibles, a new feature of the Socios.com app. Any user holding a minimum of 100 $INTER Fan Tokens will be able to bid for the balls using their $SSU loyalty tokens.
The balls will be awarded through a reverse auction starting at 600,000 $SSU and dropping by 10k every 5 minutes to a floor level of 20k $SSU.
"The first step of this unique and innovative activation was a huge success and we are very happy. When you do something that has never been done before you always face challenges, and in this case the activation required the coordination of multiple stakeholders, but everything was executed perfectly. The balls are on their way to Malta and we are close to making the dream of three Inter Milan fans come ture", said Alexandre Dreyfus, Founder and CEO of Socios.com.
Socios.com will keep all its users updated on the status of this unique activation via its social media channels and is looking forward to announcing the launching date of the auction.
Socios.com is already working with other partners on similar activations aimed to give their fans the opportunity to own a piece of the history of their teams.